EVENT CALENDAR
3 RING SIRCUS - LIVE!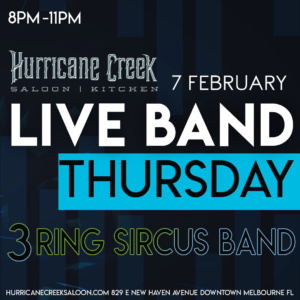 🎶LIVE - THURSDAY -LIVE🎶
The 3 Ring Sircus Band will be performing LIVE on the Hurricane Creek Saloon Stage.
Come enjoy an evening of all your favorite Country Songs performed Live ! Thursday February 7th 2019.
8PM -11PM
No Cover Charge.
Full Liquor Bar and Frozen Daiquiri Bar 🍺🍹🍷🍸
Have a Delicious Dinner while listening to your Favorite Country Music - Ask Your Bartender for a Menu.🤠
My Tickets is currently in testing mode. No financial transactions will be processed.