EVENT CALENDAR
Tracy Byrd in Concert at Hurricane Creek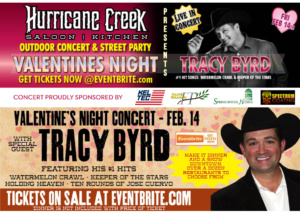 TRACY BYRD -- Country Music Legend -- Live In Concert at Hurricane Creek Saloon on Valentine's Night FEB 14th
Hurricane Creek Saloon's 2020 Concert Series and FREE Outdoor Concert .... Presenting "TRACY BYRD" Live In Concert - Friday Night February 14th - Valentine's Night.
Downtown Melbourne Comes Alive For This Amazing Experience!!!
A True Music Legend and Future Country Music Hall Of Famer with over 30 hit songs including #1 hits like: "Watermelon Crawl" - "Keeper Of The Stars" - "Ten Rounds With Jose Cuervo" - "Lifestyles Of The Not So Rich and Famous"....and so many more tunes you will be singing along with throughout the night.
Entertainment prior to the TRACY BYRD concert (Approx 9:45pm) will be - The Last Call Band . (Approx 8pm)
Inside Hurricane Creek .... will feature DJ Jimmy Mixx playing the best mix of Country dance music, PLUS much much more.
Come early ... Grab Dinner Downtown at Hurricane Creek OR at one of the many other amazing restaurants, then walk around Historic Downtown Melbourne prior to the shows. Remember it's Valentine's Night ... So make your Dinner Reservations in advance. (Dinner is separate and is not included with the price of the concert ticket)
Hurricane Creek Saloon Doors open at 11am for lunch and dinner
Concerts start at 8pm .... Don't Miss It!!!!! THIS EVENT WILL SELL OUT!!!!
GENERAL ADMISSION -- $ 30.00
V.I.P. TICKET plus MEET & GREET WITH TRACY -- $ 99.00
V.I.P. - GOLD TICKETS -- $ 60.00
V.I.P. - PURPLE TICKETS -- $ 50.00
Proper ID Required for each attendee to enter this event
For the safety of all ... No ID No Entry
Additional Event Information - Call: Hurricane Creek Saloon (321) 802-3205
Times, Event Info, and Prices are subject to change without notice....If tickets are still available day of event, Prices will be higher at the door.
My Tickets is currently in testing mode. No financial transactions will be processed.